Teuku Zulfikar, 2030047801 (2020) EFL Research: Designs and Thesis Writing. The Padebook, Banda Aceh. ISBN ISBN : 978-602-60562-9-0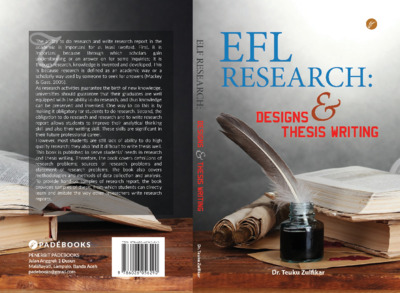 Preview
Text (Book on research methods in English as a foreign language)




EFL Research.pdf


Download (6MB) | Preview
Abstract
The ability to do research and write research report in the academia is important for at least twofold. First, it is important because through which scholars gain understanding or an answer on for some inquiries; it is through research, knowledge is invented and developed. This is because research is defined as an academic way or a scholarly way used by someone to seek for answers (Mackey & Gass, 2005).
As research activities guarantee the birth of new knowledge, universities should guarantee that their graduates are well equipped with the ability to do research, and thus knowledge can be preserved and invented. One way to do this is by making it obligatory for students to do research. Second, the obligation to do research and research and to write research report allows students to improve their analytical thinking skill and also their writing skill. These skills are significant in their future professional career.
However, most students are still lack of ability to do high quality research; they also find it difficult to write thesis well. This book is published to serve students' needs in research and thesis writing. Therefore, the book covers definitions of research problems; sources of research problems and statement of research problems. The book also covers methodologies and methods of data collection and analysis. To provide hand-on samples of research report, the book provides samples of thesis, from which students can directly learn and imitate the way other researchers write research reports.
Actions (login required)