Kamaruzzaman Bustamam Ahmad, 2017097803 (2015) Turnitin: Educational Practice: Lessons to be Learned from Madrasah and Religious Schools in Contemporary Southeast Asia. IJIMS, Indonesian Journal of Islam and Muslim Societies,.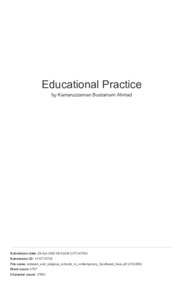 Preview
Text




Hasil Turtinin Educational Practice.pdf


Download (3MB) | Preview
Abstract
This article aims at examining the current portrait of Islamic education in
Southeast Asia. Recently, there have been many studies on the role of madrasahs
or religious schools in Islamic education. As Muslim who studies social-anthropology,
I would like to approach this issue by examining socio-cultural of
Islamic education in Southeast Asia. Historically, the tradition has been based
on Muslim society at grass root level. The word of madrasah in Southeast Asia
has long history, which called as dayah in Aceh, surau in Minangkabau, pesantren
in Java, pondok in Malaysia, and pho no in Southern Thailand. The role of
madrasah, then has similarities with the tradition of pesantren, even in some
Muslim countries like Indonesia scholars still can differentiate between pesantren
and madrasah. In this study, I examine to philosophical dimension and system
of knowledge reproduction in Islamic education. Finally, I argue that
pesantren or religious school is embedded in Muslim culture.
Actions (login required)