Nadia Maulidar, 150203120 (2020) Students' Politeness Strategies in Asynchronous Online Discussion. Skripsi thesis, UIN AR-RANIRY.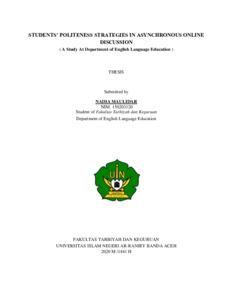 Preview
Text (Students' Politeness Strategies in Asynchronous Online Discussion)




Nadia Maulidar, 150203120, FTK, PBI, 085362985788.pdf

- Published Version
Available under License Creative Commons Attribution.
Download (3MB) | Preview
Abstract
Linguistics in discourse still becomes a major concern in English Language Learning. To maintain an effective classroom discussion, the students and the teachers need to perform a polite way. Therefore, this study attempts to explore the politeness strategies used by EFL learners of department of English Language Education at UIN Ar-Raniry in Asynchronous Online Discussion. The writer applied a descriptive qualitative method by using discourse analysis in analyzing the politeness utilization in the online discussion. The participants are 57 from two linguistics classes. The key sources of data were the students' utterances, which were gathered by saving the portable data format (PDF). The writer used Brown and Levinson theory of Politeness Strategies in identify the types of politeness strategies used by the students. The result revealed that the politeness strategies found in the discussion of both classes were three types: positive politeness, negative politeness, and bald on record. The most applied strategies were the positive politeness by utilizing various its strategies. It is employed as a softening their friends' face, establish friendship, solidarity and respect while discussion. The findings of this study might be used as an input for teachers or lecturers and students in an effort to create effective classroom discussion. By and large, the deep pragmatics analysis perspective is strongly recommended to minimize the weaknesses of this study.
Actions (login required)