Miftahul Jannah, 150203036 (2020) The Analysis of Semantic Macrostructure in Children's Fairytales. Skripsi thesis, Uin Ar-Raniry.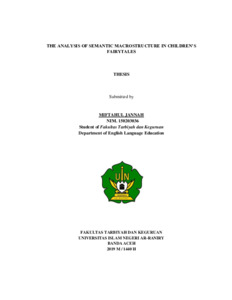 Preview
Text (The Analysis of Semantic Macrostructure in Children's Fairytales)




Miftahul Jannah, 150203036, FTK, PBI, 085277544085.pdf.pdf

- Published Version
Available under License Creative Commons Attribution.
Download (2MB) | Preview
Abstract
This study worked on analyzing macrostructure of a fairy tale, in word and sentence level. The problems of this research can be formulated into two specific questions: What are the macrostructures in children's fairytales? Regarding the research question, the aims are to discuss how macro-rules work in children's fairytale and to identify the macrostructure in children's fairytale. This research used descriptive qualitative research method. The research subjects were three original fairy tales called "Old Sultan", "Fundevogel" and, "The Elves and The Shoemaker" by Grimm Brothers (1812). These stories come from The Original Folk and Fairy Tales of The Grimm's classic collection. Theoretically, the result of this research contributes to the development of discourse study and enriches the theories about the analysis of macrostructure especially for children's fairy tales. Practically, this study is beneficial for linguistic lecturers and language learners since this research provides the structure of macrostructure which becomes discourse analysis learning sources. Also, it gives useful information for future researchers who are interested in discussing the related topic on macrostructure, especially on macro-rules. The study, therefore, recommended that it is important for future research to analyze various texts such as speech, news and letter which will help the reader to perceive the real meaning of a text.
Actions (login required)