Habiburrahim, 2006087207 (2020) Turnitin: Literacy in The New Norm. Emerald, UK.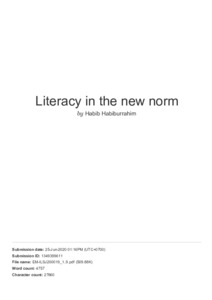 Preview
Text (Turnitin: Literacy in The New Norm)




Turnitin - Literacy in the new norm.pdf

- Published Version
Available under License Creative Commons Attribution.
Download (2MB) | Preview
Abstract
Purpose – The purpose of this study is twofold. Firstly, this research aims at helping countries implement
an equitable, innovative and context-appropriate stay-home game plan for the millions of disadvantaged and
under-privileged students severely affected by the forfeiture of school closures; and secondly, this study
proclaims that the burgeoning popularity of gamification has the potential to lay the bedrock foundation for
'Literacy in the New Norm'.
Design/methodology/approach – The temporal closure of schools around the world to limit the spread
of the COVID-19 has resulted in massive educational disruptions triggering adverse effects and bringing
much of education under grave threat. Through a review of the current empirical and conceptual literature,
this study proposes a new gamification concept in a non-technology environment.
Findings – Well underway are global dialogues that hold conversations on implementing mitigation
strategies to counter the looming global health crisis. This has generated the impetus for a more concerted
effort by concerned governments and international organizations to identify appropriate solutions for the
continuity of learning so that the learning never stops. While educators and learners plunge further into the
core of reconstructing education, the authors recognize that the fundamentals of technology and virtual
connectivity have all along contributed to the multi-faceted e-learning stage set. However, concerns regarding
the paradigm shift to remote online learning would certainly exacerbate inequalities cardinally felt across
disadvantaged communities around the globe.
Actions (login required)