Riska Amelia, 140203224 (2020) The Speeding up English Speaking Ability in Two Weeks. Skripsi thesis, UIN AR-RANIRY.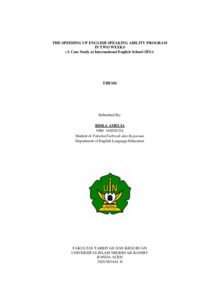 Preview
Text (Department of English Language Education Thesis working : The Speeding up English Speaking Ability in Two Weeks)




Riska Amelia, 140203224, FTK, PBI, 082255938881.pdf

- Published Version
Available under License Creative Commons Attribution.
Download (3MB) | Preview
Abstract
Speeding up speaking is an enhancement of speaking ability which related to the students' improvement on their ability of speaking while learning English. The purpose of this study is to find out the speaking ability of the student within two weeks course at International English School (IES), Banda Aceh. This study employed both quantitative and qualitative research method with 243 students of class 2018 as the research population. There were 3 instructors and 25 students taken as the research sample through purposive sampling with the consideration the participants have completed the two weeks speaking class and they can be contacted via telephone. The data were collected through questionnaire and interview which analyzed using percentage and thematic content analysis. The result shows that the two weeks English speaking program was successful in speeding up students' speaking ability. Furthermore, there are three main teaching techniques that adopted which make this program succeeded; applying appropriate activities for the student, directing the student to do oral performance and building the students' self-confident in learning English. Thus, by practicing the activities integratedly, they increased their speaking skill as well as their confidence.
Actions (login required)