Nanda Shalihan, 150203125 (2019) The Analysis of Persuasion in Nouman Khan's Speeches. Skripsi thesis, Uin Ar-Raniry.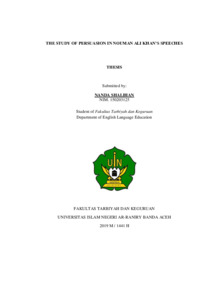 Preview
Text (The Analysis of Persuasion in Nouman Khan's Speeches)




Nanda Shalihan, 150203125, FTK, PBI, 085314120765.pdf

- Published Version
Available under License Creative Commons Attribution.
Download (1MB) | Preview
Abstract
This research attempted to analyze the persuasion strategies in speeches given by Nouman Ali Khan. The speeches ware delived during the seminar at IANT (Institute of Advance Network Technology) New Delhi in 2012. The main purpose of this research is too focused on the ethos and logos persuasion strategies in the speeches. Employing the qualitative method, the research collected the data by using textual analysis and coding to analyze the data. Based on analyze, Nouman used more logos (logic argment) as tool to persuade the audiences than ethos (credibility). Nouman exercised two major persuasion strategies including ethos and logos in his speech. This means that he used intelligence for persuade the audience's attention, and logos to strengthen his argument. In addition, the way he applied the persuasion startegies in each of his speeches is also roughly similar. However, the relationship between ethos and logos creates an effective persuasion speech.
Actions (login required)