Riska Riwana, 150203195 (2020) Identifying Coherence Problems in Student-Produced English Text. Skripsi thesis, UIN Ar-Raniry.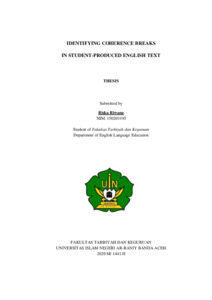 Preview
Text (Identifying Coherence Problems in Student-Produced English Text)




Riska Riwana,150203195,FTK,PBI,082248838761.pdf

- Published Version
Available under License Creative Commons Attribution.
Download (5MB) | Preview
Abstract
This study is about identifying coherence breaks in student produced text, especially in descriptive text. The study aims is to identify the types of coherence breaks and most coherence breaks that encountered in students' writing descriptive text. The data were document analysis that were collected from written test. Then, the collected data were analyzed by using textual analysis and identified whether there for breaks of coherence in students' descriptive text or not based on Wikborg's (1985) theory. The samples in this study were students in 2016 academic year of English Education Department Ar-Raniry and selected by using purposive sampling technique. The finding of this study was found that there were five types coherence breaks in students' writing; disorganization of ideas and pattern, unspecified topic, unjustified change or drift of topic, irrelevance and misleading paragraph. The disorganizations of ideas and pattern as the most frequent breaks as appeared in 19 occurrences. Then followed by unspecified topic and unjustified change or drift of topic in the same positions which were found in 10 occurrences. The Irrelevance was found in 5 occurrences in students' descriptive text writing. The fewest breaks of coherence were misleading paragraph division found in 3 occurrences. The study implies that majority of students still have problems in structuring a good paragraph coherently. Further research is needed to seek the factor that causes students made errors in term of coherence and their effort to overcome the problems which is absent in this research.
Actions (login required)