Nailul Kharisma, Nailul (2020) Strategies The Nursing Students Employed In Dealing With The Texts In English. Skripsi thesis, UIN Ar-Raniry Banda Aceh.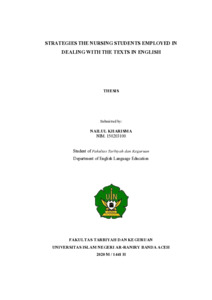 Preview
Text (Startegi membaca teks bahasa inggris)




Nailul Kharisma,150203100, FTK, PBI, 082360287890.pdf


Available under License Creative Commons Attribution.
Download (3MB) | Preview
Abstract
Nursing students as non-English major learners who are required to read English books and journals in their learning often face various problems in understanding the texts. Students use strategies to ease them in dealing with the texts. However, research on this issue has rarely been carried out in a case. Therefore, drawing upon Anderson's (2002) framework, this study focused on exploring the strategies used by Nursing students in dealing with the text in English and whether the strategies used by male and female are different. Specifically, the samples were taken randomly involving 84 students of Nursing faculty of Syiah Kuala University and ten of them were interviewed. The result at the study shows that the majority of students employed the global strategy as the higher level of strategy used with (44%), followed by problem solving strategy (31%) and support strategy (25%). Furthermore, there is no significant difference toward male and female in using those reading strategies, they only presented the difference in the frequency of each strategy. The findings of this study hold implications for improvement of students reading ability and can be used as different strategies in learning to build meaning of the reading material among the students of many educational fields.
Item Type:
Thesis (Skripsi)
Additional Information:
Pembimbing 1. Dr. Jarjani, S.Ag., S.Si., M.Sc., MA 2. Rahmi Fhonna, MA
Uncontrolled Keywords:
Nursing students, reading strategies, texts in English
Subjects:
400 Languages (Bahasa)
400 Languages (Bahasa) > 410 Linguistics (Linguistik, Bahasa Indonesia)
400 Languages (Bahasa) > 410 Linguistics (Linguistik, Bahasa Indonesia) > 411 Sistem tulisan bahasa baku
400 Languages (Bahasa) > 410 Linguistics (Linguistik, Bahasa Indonesia) > 415 Tata bahasa-bahasa baku
Divisions:
Fakultas Tarbiyah dan Keguruan > S1 Pendidikan Bahasa Inggris
Depositing User:

Nailul Kharisma Nailul

Date Deposited:
07 Aug 2020 03:18
Last Modified:
07 Aug 2020 03:18
URI:
https://repository.ar-raniry.ac.id/id/eprint/12991
Actions (login required)