Safrul Muluk, 2001027302 (2020) Understanding Students' Self-Management Skills at State Islamic University. The Qualitative Report. ISSN 2160-3715 (In Press)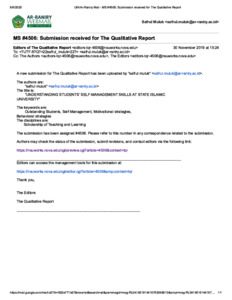 Preview
Text (Acceptance Article Understanding Students' Self-Management Skills)




Submission and Acceptance_Artikel Understanding Students' Self-Management Skills.pdf

- Accepted Version
Available under License Creative Commons Attribution.
Download (619kB) | Preview
Abstract
This qualitative research examined students' self-management skills at English Language Education
Department, Ar-Raniry State Islamic University, Aceh, Indonesia. We looked at students' motivational and
behavioral strategies and scrutinized their time management, emotion, effort, and social and learning
environments. Three areas closely related to students' self-management skills, namely academic
achievement, academic awards, and social involvements were analyzed in order to understand factors
contributing to their achievement. The researchers used semi-structured interviewed to five female
students, selected by adopting certain criteria, such as their GPA, TOEFL score, and social involvements.
Findings showed that students with outstanding management skills adopt motivational and behavioral
strategies in their daily lives as students. They also practiced positive and supportive illustrations in
developing a good self-management system, such as setting up and executing academic priorities,
evaluating how activities were done.
Actions (login required)