Yusrizal, 160203207 (2020) Students' Attitude on Learning English Using Digital Dictionary. Skripsi thesis, UIN Ar-Raniry Banda Aceh.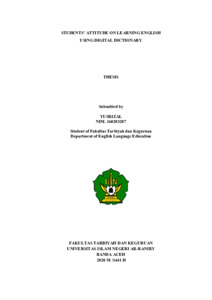 Preview
Text (Student's attitude on Learning English)




Yusrizal.pdf

- Published Version
Available under License Creative Commons Attribution.
Download (3MB) | Preview
Abstract
This research was conducted to determine the student's attitude on learning English using a digital dictionary and to investigate students' reasons that the students frequently use an online dictionary. This research population is all active students of English department language education, from the academic year 2019/2010. The total population is 780 students so that the researcher took 89 students as the sample in this study. This study is quantitative research, and the approach used in this research is descriptive analysis. This research shows that a digital dictionary is a useful tool for learning English vocabulary in a natural environment. Based on the quantitative descriptive data, the students' responses are high enough, and they show a positive attitude toward the digital dictionary.
Actions (login required)