Aldi Aulia Zuhry, 160203012 (2020) Students' Perception on the Supports of the School Mentors during Teaching Practicum. Skripsi thesis, Universitas Islam Negeri Ar-Raniry.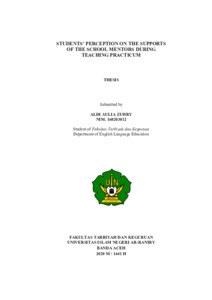 Preview
Text




Aldi Aulia Zuhry, 160203012, FTK, PBI, 085206980699.pdf


Download (9MB) | Preview
Abstract
The purpose of this study is to explore students' perceptions of supports provided during teaching practicum. The data collection process was carried out by interviewing ten students, five males and five females, who had participated in the PPKPM program for the 2019-2020 period at different schools in Aceh Tengah. The material obtained from interviews was transcribed and analyzed. The results show that students' perception of their school mentors' support during teaching practicum is sufficient. Most of them gave a positive opinion of the support provided. However, they argue that the support provided should be increased. Some students felt that if the support provided still lacks. It caused by several things, namely the lack of experience as a school mentor, the miss of obligations as a school mentor, and the inadequate system of the school in assisting the communication between students' practicum and school mentors during teaching practicum. Therefore, they argue that school mentors must always know and remember their obligations as a school mentor so that students' internship can get proper guidance from their school mentors.
Actions (login required)