Muhammad Imam An-Nasa'i, 160203017 (2020) An Analysis of Figurative Languages in the English Translation of Al-Qur'an by M.A.S Abdel Haleem. Skripsi thesis, Universitas Islam Negeri Ar-Raniry.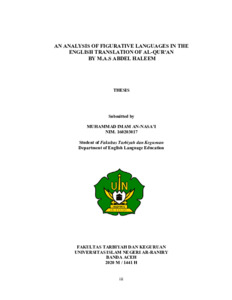 Preview
Text




Muhammad Imam An-Nasa'i, 160203017, FTK, PBI, 085260942650.pdf


Download (4MB) | Preview
Abstract
In communicating, people can use either literal or figurative language, depending on their needs and context. One of the messages which need to have the right understanding is Al-Qur'an. The messages in Al-Quran sometimes are started explicitly but sometimes implicitly by using figurative language. The use of figurative language in Al-Quran is exciting to be researched and, of course, not meant to decrease or increase the content of Al-Quran itself. The research was designed to identify the verses which contained simile, metaphor, synecdoche, personification, metonymy, allegory, overstatement (hyperbole), irony, symbol, paradox, apostrophe and understatement in which found in the English translation of Al-Quran by M.A.S. Abdel Haleem and the meaning of each figurative language. This research was conducted using qualitative research to analyze the verses. The material analysis of this study was the surah Al-Waqi'ah, which contains 96 verses and Al-Mulk, which contains 30 verses. The findings of the study showed that 30 verses were containing figurative language. They were nine allegories, seven personifications, seven symbols, three metaphors, two similes, and two metonymies. The dominant type of figurative language used in the surah Al-Waqi'ah and Al-Mulk in English translation of Al-Quran by M.A.S. Abdel Haleem was allegory. The result of the study can be used as additional literature materials in English language teaching.
Actions (login required)