Dezza Yuanda Utami, 140203065 (2020) Students' Perception on the Use of Duolingo as a Language Learning Application for Learning English. Skripsi thesis, UIN Ar-Raniry Banda Aceh.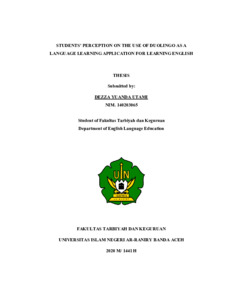 Preview
Text




Dezza Yuanda Utami, 140203065, FTK, PBI, 085297055923.pdf


Download (2MB) | Preview
Abstract
This research was conducted to find out the students' perception toward the use of Duolingo as a language learning application in learning English and to find out which aspects of language are improved by the students in learning by using Duolingo application. The research design of this research was quantitative research. The data collection technique was questionnaire. Based on the data, the students had overall positive perception towards the use of Duolingo application in learning English. The results from the questionnaire described that almost all of the students agreed that Duolingo application has many positive effects to students in learning English process, such as; the students are more motivated in learning process; getting the opportunity to be more active; very influential in learning; more understand the learning material; make students more practice and apply their language skills in daily life. Besides, there are several aspects of language that improved to students' after using Duolingo application in learning English, which are; the students easy to know and memorize the vocabulary; better in pronunciation; better in grammatical rule; and make student easy to master the English skills. The students showed that the positive aspects of Duolingo application can give a lot of benefits to them. Therefore, the use of Duolingo application needs to be applied in language learning to help the students imporove their language learning activities.
Actions (login required)