Dian Afrina, 160203008 (2020) A Narrative Approach on Motivation and Identity Development of ESL Students. Skripsi thesis, Universitas Islam Negeri Ar-Raniry.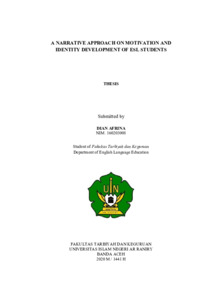 Preview
Text




Dian Afrina, 160203008, FTK, PBI, 085276719717.pdf


Download (2MB) | Preview
Abstract
The purpose of this study are to determine the motivation of students in learning English and how students deal with difficulties in learning English, especially speaking skills. The data collection process was carried out by interviewing 30 students of the English Language Department of UIN Ar-Raniry who were the EDSA cabinet for two periods by using 10 questions. The findings explain that the motivation of speakers in learning English, especially speaking skill are that students want to speak with native speakers, study abroad, easily find work and achieve high Grade Point Average (GPA) score. The majority of speakers gave a positive response (93.3%) in motivating themselves in learning English. Furthermore, the speaker applies the following strategies to overcome the difficulties of speaking such as watching films, listening to songs, taking a note, practicing with partner or mirror and using brainstorming.
Actions (login required)