Mahfuddli Sahli, 140203191 (2020) PBI Pre - Service Students' Understanding Toward The Indonesian Recent Curricula. Skripsi thesis, UIN Ar-Raniry Banda Aceh.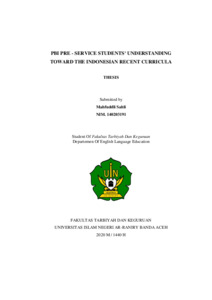 Preview
Text (Membahas tentang kurikulum 2013)




Mahfuddli Sahli, 140203191, FTK, PBI, 082189369186.pdf

- Published Version
Available under License Creative Commons Attribution.
Download (14MB) | Preview
Abstract
The present research was conducted to discuss PBI pre-service students' understanding toward the Indonesian recent curricula. It was aimed to get two purposes from the research objectives. The Study attempted to invertigate about PBI pre-service students' understanding of the implementation of the Indonesian recent curricula And the difficulties which were faced by them in applying Indonesian recent curricula. To fulfill the purpose of the research, the researcher employed a qualitative method. The participants of this research were 10 PBI pre-service students which were chosen purposively. The data were obtained through the interview and documentation. The findings of this research revealed that almost PBI pre-service students understood the theory of 2013 curriculum and its implementation and only few of them had the difficulties in understanding it. In addition, to support the data of the interview, the researcher analyzed lesson plans which were made by PBI pre-service students during the pre-service program. The results of the document analysis showed that some of the student still made did not follow the format fro the government, especially in designing learning activity.
Actions (login required)