Anggia Rahayu, 150203108 (2020) Teachers' Perception On Hidden Curriculum. Skripsi thesis, UIN Ar-Raniry.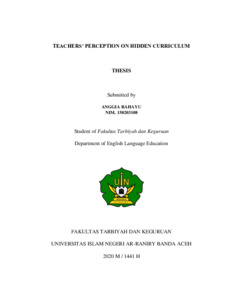 Preview
Text (Teachers' Perception On Hidden Curriculum)




Teachers' Perception On Hidden Curriculum.pdf

- Published Version
Available under License Creative Commons Attribution.
Download (6MB) | Preview
Abstract
The hidden curriculum is not formulated programmatically in the formal curriculum, but its existence is influential in building a student's character. In the hidden curriculum, a teacher is a significant figure to successfully create or shape students' character and personality. As such, the relationship between a teacher and students must be harmonious, so that the goal of creating a right attitude in students is effectively achieved without any obstacles. This study aims to explore the teachers' opinions about the hidden curriculum and its effect on students' good character at MAN 4 Aceh Besar. This qualitative research employed interviews, classroom observation, and document analysis (lesson plans and vision and mission of the school) to collect data. The findings indicate that teachers know what a hidden curriculum is and said that the hidden curriculum is contained in the 2013 revised curriculum, integrated into the teaching and learning process, the hidden curriculum is important because it shapes students' good character, the teacher shows an example, and is effective to use.
Actions (login required)