Muzairita, 231324325 (2020) An analysis of Reading Materials in Textbook "When English Rings a Bell" for Junior High School. Skripsi thesis, UIN Ar-Raniry Banda Aceh.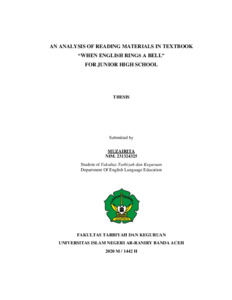 Preview
Text (About textbook analysis)




Muzairita.pdf

- Published Version
Available under License Creative Commons Attribution.
Download (3MB) | Preview
Abstract
The aim of this research is to analyze the relevancy of English textbook "When English rings a bell" for reading section in the curriculum 2013 for second grade of junior high school. This research used qualitative research. The document analysis and interview were used to collect the data. The document analysis used checklist table to find out the relevance between syllabus and textbook materials, whereas interview taken by English teachers in SMPN1 Sampoiniet. In this research, researcher use checklist instrument to looking the relevancy between the materials of textbook and syllabus. In interview, researcher use semi-structured interview to get in–depht information by English teacher in SMP N1 Sampoiniet. The result of this research showed that the relevancy between materials in curriculum 2013 and textbook. For 32 indicators listed in syllabus, its show 22 indicators relevant with percentage 68.75%, 2 indicators almost relevant with percentage 6.25% and 8 indicators irrelevant with percentage 25%. Thus, the validity of the English textbook "When English rings a bell" scored 68.75%. While in interview, researcher found that using "When English rings a bell" textbook in the classroom is not compatible. The factor is because many of students do not understand the contents of textbook without teacher explanataion, lack of students' ability in English, consequently teacher difficult to transfered the knowledge to students. Thus, the result of interview showed that using "When English rings a bell" textbook is not suitable for second grade of SMPN1 Sampoiniet.
| | |
| --- | --- |
| Item Type: | Thesis (Skripsi) |
| Additional Information: | The Supervisors: 1. Habiburrahim, S. Ag, M. Com, MS, Ph. D 2. Dr. Jarjani Usman, S. Ag., S. S., M. Sc., MS |
| Uncontrolled Keywords: | Curriculum 2013, English textbook, Relevancy |
| Subjects: | 400 Languages (Bahasa) |
| Divisions: | Fakultas Tarbiyah dan Keguruan > S1 Pendidikan Bahasa Inggris |
| Depositing User: | Muzairita Muzairita |
| Date Deposited: | 17 Sep 2020 04:16 |
| Last Modified: | 17 Sep 2020 04:16 |
| URI: | https://repository.ar-raniry.ac.id/id/eprint/14071 |
Actions (login required)