Cut Della Humaira, 231324323 (2020) Analysis of Themes and Values in Sami Yusuf Songs. Skripsi thesis, UIN Ar-Raniry Banda Aceh.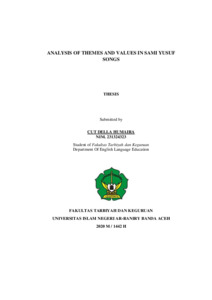 Preview
Text (Analysis of themes, values and songs)




Sept 15, 2020.pdf

- Published Version
Available under License Creative Commons Attribution.
Download (1MB) | Preview
Abstract
At this time, the song becomes a very influential thing in the life of an individual in daily life. And also people have been selective in choosing songs, especially in song that contain Islamic elements. There are some singers who sing the songs that are Islamic in context. The song that has contain of Theme, values that based on Islamic values and it is recommended to hear. The people who listen to the song of Sami Yusuf it must know the meaning contained in their favorite song. To solve this problem, this research discusses about the song of Sami Yusuf performed on the album "My Ummah which was launched in 2005 and Islamic values in Sami Yusuf's Song lyric. This research aims to find out the theme, moral value in the song Sami Yusuf. The method used in this research is descriptive qualitative with literature study. The research results below answer all research questions such as : 1) most of the song in Sami Yusuf song that has Themes there are happiness, death, freedom, marriage, destiny, worship, optimism, loyalty, faith, peace, regretful, sympathy, and family. 2) Most of Sami Yusuf's lyrics contain Islamic values such as Aqeedah (Faith), Sharia (Worship and Practice), and Akhlaq (Morallities).Thus all of Sami Yusuf's songs from the album "My Ummah" are very inspiring and highly recommended to be listened. The contained of the song describe about love to every Muslim, love to Prophet Muhammad and described a lot about belief to the existence of Allah SWT. In addition, Sami Yusuf song can be useful to make people realize.
Actions (login required)