Safira Ludjan, 150203114 (2020) Students' Demotivating Factors in Learning English (A Study At SMAN 1 Indrapuri). Skripsi thesis, UIN Ar-Raniry Banda Aceh.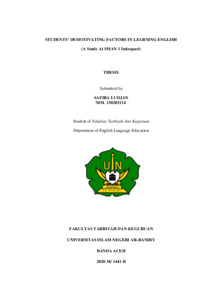 Preview
Text (Students' Demotivating Factors in Learning English)




Safira Ludjan, 150203114, FTK, PBI, 08982703673.pdf

- Published Version
Available under License Creative Commons Attribution.
Download (1MB) | Preview
Abstract
This study is conducted under the title "students' demotivating factors in learning English". The purpose of this study is to investigate the internal and external factors that demotivate students in learning English and the perceived solution for this problem. The method used to answer two research questions in this study is qualitative approach. The data was collected by using structured interview with close and open ended questions via phone call. There are 14 questions related to internal and external factors in the interview instrument. The population of this study is all students at SMAN 1 Indrapuri. The samples are the second graders. These samples were chosen by using snowball purposeful sampling. The finding shows that the internal demotivation factors are interest and belief. The external demotivation factors include teachers, peers and facilities. The solutions to the internal factors are teachers. They should pay much attention to the assignment difficult y and use more conducive teaching method. The solutions to the external factors are students. They should build good impression to their teachers and avoid external negative influence, teachers should concern with the books, teaching styles and materials given to students, and school authorities should provide book in the library.
Actions (login required)