Sabirin, 2027018401 (2020) The Profile Of Teungku Dayah (Field Study: Dayah Ule Titi, Kecamatan Ingin Jaya, Aceh Besar - Indonesia). ARICIS II - ICAIOS VII 2018. pp. 1-11.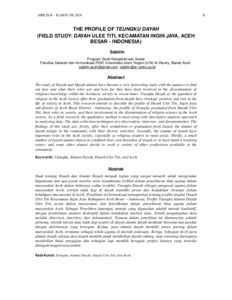 Preview
Text (The Profile Of Teungku Dayah)




The Profile Of Teungku Dayah.pdf

- Published Version
Available under License Creative Commons Attribution.
Download (90kB) | Preview
Abstract
The study of Dayah and Dayah alumni have become a very interesting study with the purpose to find out how and what their roles are and how far they have been involved in the dissemination of religious knowledge within the Acehnese society in recent times. Teungku Dayah as the guardian of religion in the Aceh society after their graduation from dayah have strategic position and role in the life of society in Aceh. This research intends to describe the profile of Dayah Ulee Titi, Ingin Jaya sub-district of Aceh Besar District - Indonesia, the profile of Teungku graduated from Dayah Ulee Titi, their roles in society, and their involvement in the dissemination of religion science in the Aceh society. As a field research, the qualitative method is used along with descriptive analysis approach in analysing data. The data collection techniques are observation, interview, and documentation. The findings of this study are: firstly, after their completion or graduation from dayah, the alumni of dayah mingle in the community with their diverse activities. Secondly, the alumni of dayah have important roles in the Aceh society, especially as religious leaders in rural areas. Thirdly, a small
number of dayah alumni choose to establish their own branches of dayah or at least build a teaching center, and some other alumni decide to work a variety of other professions available in the community.
Actions (login required)