Neli Irnanda Sari, 150203211 (2020) Students' Perception on Academic Honesty in Tasks Completion. Skripsi thesis, UIN AR-RANIRY.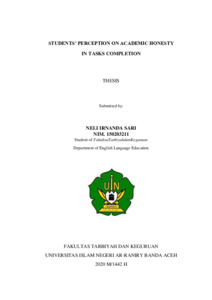 Preview
Text (Students' Perception on Academic Honesty in Tasks Completion)




Neli Irnanda sari, 150203211, FTK, PBI, 087825177490.pdf

- Published Version
Available under License Creative Commons Attribution.
Download (2MB) | Preview
Abstract
This research highlights students' perception on academic honesty in tasks completion. This research aims (1) To find out the students' level of awareness of current University policy concerning academic honesty at PBI UIN Ar-raniry (2)To investigate students' knowledge toward academic misconduct, including their rating of the acceptability of a range of plagiarizing and cheating behavior at PBI UIN Ar-raniry. This research employed a quantitative research approach in which the data were quantitatively collected through questionnaire. The respondents are 100 students at PBI Ar-raniry from 2015-2019 academic years. This research found that: (1) Majority of students is moderately aware of academic honesty in most of the listed behavior in the survey. Most of students admitted that they less often conducted the academic dishonesty when completing tasks but they do ever engaged in practicing most of the behavior. (2) Students are still lack of understanding the Academic Honesty policy and 37 % of them are failed in interpreting the academic dishonesty behavior.
Actions (login required)