Saiful Akmal, 2001038202 (2020) Peer Review Jurnal Nasional Terakreditasi Sinta 2, Lecturer Considerations in Providing Materials for Reading Courses: The Case of Islamic University in Aceh. Faculty of Language & Arts, Soegijapranata Catholic University, Semarang.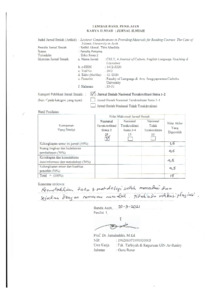 Preview
Text (Peer Review)




Peer Review Jurnal Sinta 2_Lecturer Consideration.pdf

- Published Version
Available under License Creative Commons Attribution.
Download (552kB) | Preview
Abstract
The research is about the analysis of material selection strategies used by reading courses lecturers in providing the most appropriate materials for their students. This study used descriptive qualitative to describe the information from the lecturers about the strategies they used in providing materials for the learners. Purposive sampling technique is used to collect the data through a semi-structured interview with six lecturers of reading courses. The result of the data was analysed with coding. Research findings revealed that the lecturers firstly evaluated the material to select the most appropriate materials by considering some factors linked to the student needs, student interests, and student level. Then, other factors associated with the text, content, and syllabus. Thus, it is hoped that the materials provided will be more suitable for the learners and the teaching-learning process becomes more meaningful.
Actions (login required)