Saiful Akmal, 2001038202 (2020) Peer Review Jurnal Nasional Terakreditasi Sinta 2, Sentence Pattern Contrastive Analysis of English and Sigulai Language. Faculty of Language and Literature, Universitas Negeri Makassar, Makasar.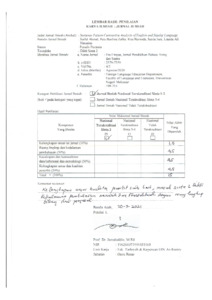 Preview
Text (Peer Review)




Peer Review Jurnal Sinta 2_Sentence Pattern Contrastive.pdf

- Published Version
Available under License Creative Commons Attribution.
Download (577kB) | Preview
Abstract
This study focuses on analyzing and contrasting sentence pattern differences in both English and Sigulai languages. The study intends to find out the differences in sentence pattern between English and Sigulai language and how the sentence pattern of two languages are different. This current study was conducted by employing the qualitative method by using the contrastive analysis approach. Purposive sampling was used to select samples comprising two native-Simeulue students studying in Banda who speaks Sigulai. The findings show that there were contrast differences in verbal and nominal sentence patterns between English and Sigulai. Moreover, it can be concluded that Sigulai language has a non-configurational sentence pattern as many other Austronesian languages in Aceh and Indonesia in general.
Actions (login required)