Saiful Akmal, 2001038202 (2020) Peer Review Jurnal Nasional Terakreditasi Sinta 3 Exploring EFL Students. Universitas Islam Sumatera Utara, Medan.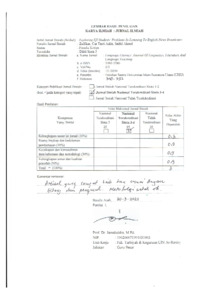 Preview
Text (Peer Review)




Peer Review Jurnal Sinta 3_Exploring EFL Students.pdf

- Published Version
Available under License Creative Commons Attribution.
Download (550kB) | Preview
Abstract
Listening is central for language learning and for daily communication. However, in foreign language learning, students still encountered problems in understanding listening materials. This present study is aimed to reveal the students' problems in listening English news broadcasts. The subject of this study were two classrooms at the Department of English Language Education at an acknowledge university in Banda Aceh. The samples were made of 50 students in their third semester. This study employed a quantitative analysis approach. A close-ended questionnaire was used as the instruments in collecting the data. The findings showed that the difficulties faced by the students in listening to English news broadcast were mainly caused by unfamiliar topics, unfamiliar vocabulary, different accents, fast speech rate, unintelligible pronunciation, difficulty in inference making, excessively long passages, complicated grammatical structure, as well as complex ideas.
Actions (login required)