Mursyida Ulfah, 150203094 (2020) Students' Perception toward English Speaking Programs in Al-Manar. Skripsi thesis, UIN AR-RANIRY.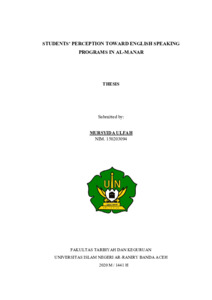 Preview
Text (Students' Perception toward English Speaking Programs in Al-Manar)




Mursyida Ulfah, 150203094, FTK, PBI, 082165554470.pdf

- Published Version
Available under License Creative Commons Attribution.
Download (2MB) | Preview
Abstract
This study was conducted based on the fact that some students of Al-Manar Modern Islamic Boarding School do not have a proper ability in speaking English while they have been treated by many programs by the school system, even though speaking ability is important in preparing students' higher education and future career. Therefore, the purpose of this study were to explore students perception toward English speaking programs conducted in their school and the challenges or common problem they found during involved in the programs. To achieve this end, a qualitative descriptive design was utilized in this study. The data of this research were collected by using in-depth interview. The participants were ten students who were chosen purposively based on a criterion that they have been living in Al-Manar more than two years and actively participated in the programs. The result of the data pointed out that all students had positive perception toward English speaking programs aimed to increase students' speaking ability. They believed that speaking ability enhances their future career and useful to built a good communication to the people around the world, especially in this modern era. Furthermore, in practicing speaking, students faced some challenges including feel forced by the programs, students' difficulties in pronunciation, lack of self intention, and unsupporting environments sometimes happened. To deal with all those challenges, students consciously aware that forcing helps them built their own intention in order to come over all challenges they got.
Actions (login required)