Abdul Manan, 2021067201 (2020) The Sunni-Shia Conflict in the History of Islam An Analytical Descriptive Study. PALITA : JOURNAL of Social Religion Research, 5 (2).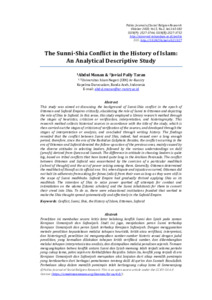 Preview
Text (The Sunni-Shia Conflict in the History of Islam An Analytical Descriptive Study)




The Sunni-Shia Conflict in the History of Islam An Analytical Descriptive Study.pdf

- Published Version
Available under License Creative Commons Attribution.
Download (912kB) | Preview
Abstract
This study was aimed at discussing the background of Sunni-Shia conflict in the epoch of Ottoman and Safavid Empires critically, elucidating the role of Sunni to Ottoman and depicting the role of Shia to Safavid. In this sense, this study employed a library research method through the stages of heuristics, criticism or verification, interpretation, and historiography. This research method collects historical sources in accordance with the title of the study, which is then carried out the stages of criticism of verification of the sources, and developed through the stages of interpretation or analysis, and concluded through writing history. The findings revealed that the conflict between Sunni and Shia, indeed, had ensued over a long enough period, therefore, since the era of the Rashidun Caliphate. Besides, the conflict occurring in the era of Ottoman and Safavid denoted the follow-up action of the previous ones, mainly caused by the diverse attitudes in selecting leaders, followed by the various understandings on dalil (proofs) derived from Quran and Sunnah. The difference in attitude in choosing leaders is quite big, based on tribal conflicts that have lasted quite long in the Arabian Peninsula. The conflict between Ottoman and Safavid was exacerbated by the coercion of a particular madhhab (school of thought) and the act of power seizing among them. Generally, Ottoman determined the madhhab of Hanafi as its official one. Yet, when dispute and injustice occurred, Ottoman did not halt its adherents from asking for fatwa (edict) from their own as long as they were still in the scope of Sunni madhhabs. Safavid Empire had gradually thrived applying Shia as its madhhab. The intention of Shia to seize power sparked off attempts for combat and intimidation on the ulama (Islamic scholars) and the Sunni inhabitants for them to convert their creed into Shia. To do so, there were educational institutions founded that worked to make the Shia thought spread systematically and effectively in the Safavid Empire.
Actions (login required)