Mimi Tarina, 160203064 (2021) Developing Students' Vocabulary Through Short Story In Rural Area. Skripsi thesis, UIN Ar-Raniry.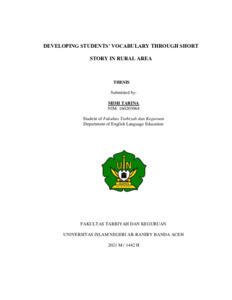 Preview
Text (Tentang Developing Students' Vocabulary Through Short Story in Rural Area)




Mimi Tarina, 160203064, FTK, PBI, 082370251548.pdf

- Published Version
Available under License Creative Commons Attribution.
Download (8MB) | Preview
Abstract
This research investigates the developing students' vocabulary through teaching short story in rural area specifically in SMPN 1 Mila. This research aims to know the students' development on vocabulary by using short story. The researcher utilized the quantitative research design in this study. There were 13 students at third grade of SMPN 1 Mila participated in this research. The data collection was obtained by using test and questionnaire, while technique of data collection is used T-Test. The result of this study shows the significance difference between pre-test and post test because t value < -t tabel (-7,808 < -2,179). In addition to students' perception of using short story in learning they are able to learn English vocabulary easier and short story is able to make them interested in learning English.
Actions (login required)