Yuliana, 160203160 (2020) The Effect of Psychological Factors on English Speaking Performance. Skripsi thesis, UIN Ar-Raniry Banda Aceh.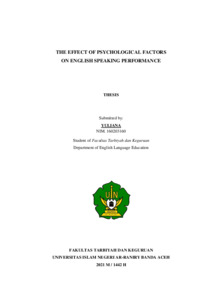 Preview
Text (Membahas tentang efek dari faktor psikologi terhadap speaking)




Yuliana.pdf

- Published Version
Available under License Creative Commons Attribution.
Download (5MB) | Preview
Abstract
This research aims to investigate the correlation between psychological factors and speaking performance and which psychological factors most affect on English speaking performance. This research was quantitative research with the descriptive approach and used questionnaire as the research instrument. The questionnaire was adapted from AMTB (Attitude/ Motivation Test Battery) (Gardner, 1985) and FLCAS (Foreign Language Classroom Anxiety Scale) (Horwitz et al, 1986). The population of this research was PBI's students from batch 2016. To select the participants, purposive sampling was used in this research; seventy-five students who have finished all of the speaking's subject become the participants in this research. The psychological factors score and speaking score were analyzed by using Pearson's Product moment correlation coefficient on SPSS. The result shows that there was a weak correlation between psychological factors and speaking performance, where r value is -0,010 and based on p value there was no significant correlation between psychological factors and speaking performance, the p value was 0,932 which is higher than 0,05. While, based on the students' responses, the most affected psychological factors was motivation. This finding is not surprised because based on the theory that motivation determines the success of learning to speak English.
Actions (login required)