Tasya Rahmayanti, 160203174 (2021) Exploring Ambiguity Tolerance and Perceptual Learning Styles of EFL Students. Skripsi thesis, UIN Ar-Raniry.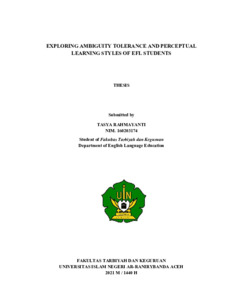 Preview
Text (This study was conducted to Exploring Ambiguity Tolerance and Perceptual Learning Style of EFL Students)




Tasya Rahmayanti, 160203174, FTK, PBI, 085261086724.pdf

- Published Version
Download (3MB) | Preview
Abstract
Learning a new language means learners deal with new lexical and grammatical structure. Encounter various ambiguous situations during learning process is common thing for second language learners. There are many factors can influence in EFL learning. Ambiguity tolerance and perceptual learning styles are factors that influence second language learners in learning process. Ambiguity tolerance linked with how an individual encounters difficulties in a new situation frequently, it relates how individual's cognitive work when it finds an ambiguous situation. Furthermore, ambiguity tolerance can be barrier in language learning. On the contrary it is also useful in learning foreign language. Learning styles can be used as a strategy in learning process. Learning styles do not only give benefit for learners, but also give benefit for teachers. Additionally, teachers can use the information about students' learning styles to facilitate learning process. In this regard, this research aims to explore whether there is a relationship between ambiguity tolerance and perceptual learning styles of the third semester students of UIN Ar-Raniry. The respondents of this study were 180 students from third semester in academic year 2019-2020. Within a correlational research model, second language tolerance of ambiguity tolerance scale (SLTAS) and perceptual learning style preference (PLSP) questionnaires was applied to the respondents. The collected quantitative data were analyzed by Statistical Package for the Social Sciences (SPSS) 22.0 program. The Pearson product-moment correlation coefficient was used to analyze the data. The findings show (1) the four perceptual learning styles are significantly correlated with ambiguity tolerance but the correlation is weak, (2) significant gender difference does not exist in ambiguity tolerance and perceptual learning style preferences.
Actions (login required)