Atthariqah Dhuhariasya Nazli, 160203151 (2021) Understanding Authentic Assessment Used by Teachers in Improving Students' Language Skills. Skripsi thesis, UIN Ar-Raniry Banda Aceh.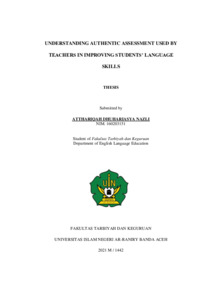 Preview
Text (This study was conducted to discover which type of the authentic assessment that feasible and effective to improve students' language skills)




Atthariqah Dhuhariasya Nazli, 160203151, FTK, PBI, 082280319414.pdf

- Published Version
Available under License Creative Commons Attribution.
Download (1MB) | Preview
Abstract
The use of assessment cannot be separated in the teaching and learning English process. Authentic assessment, for instance, has become one of the well-known assessments implemented by almost all educators to support their material in the learning process. There were three areas of students' competence that should be assessed by authentic assessments, namely attitudes, knowledge, and skills. The types of authentic assessment that could be used to assess students' skills are performance, project, and portfolio. This implementation has been observed differently by educators. Therefore, this study aimed to discover which type of authentic assessments that an effective and feasible in the Acehnese school context. The research was conducted by qualitative approach. The participants of this study were 3 lecturers of the English Language Education Department, UIN Ar-Raniry, and 2 teachers of the Islamic Vocational School Alfata and SMP Muhammadiyah Banda Aceh. The result of this research showed that performance assessment is the best type to be applied and measure the students' language skills. However, the educators faced some difficulties in applying authentic assessment such as time-consuming and must be well-planned.
Actions (login required)