Asyifatika Humaira, 160603085 (2020) Murabahah Financing And Its Implementation For The Economic Empowerment Of The Ummah. Skripsi thesis, UIN Ar-Raniry.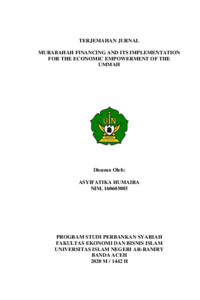 Preview
Text (Tentang Terjemahan Jurnal)




Asyifatika Humaira, 160603085, FEBI, PS, 085211884776.pdf

- Published Version
Available under License Creative Commons Attribution.
Download (7MB) | Preview
Abstract
Penelitian ini hanya mengetahui pelaksanaan pengawasan shahibul maal yang dilakukan dengan mengurai masalah pembiayaan sesuai dengan ketentuan Bank Indonesia bahwa jumlah pembiayaan bermasalah yang dicairkan tidak melebihi 5%. Sedangkan rata-rata pertahun jumlah masalah pembiayaan shahibul maal lebih besar dari 5%. Untuk penyelamatan pembiayaan bermasalah, beberapa upaya dilakukan seperti penjadwalan ulang dalam kelonggaran ke shahibul maal, membayar pembiayaan yang telah jatuh tempo. Kemudian susuk kembali persyaratan pembiayaan dengan mengkaji isi kesepakatan pembiayaan bila diperlukan plus atau minus. Dan memperbaiki struktur pendanaan (rekapitulasi) serta organisasi bisnis, membantu memperbaiki kondisi dan likuiditas keuangan shahibul maal. Dengan demikian shahibul maal mampu melunasi pembiayaan bermasalahnya.
Actions (login required)