Nurul Masyithah, 150203073 (2020) Students' Strategies in Improving Speaking Fluency. Skripsi thesis, UIN AR-RANIRY.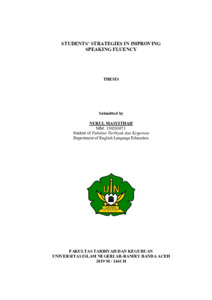 Preview
Text (Students' Strategies in Improving Speaking Fluency)




Nurul Masyithah, 150203073, FTK, PBI, 081262340019.pdf

- Published Version
Available under License Creative Commons Attribution.
Download (2MB) | Preview
Abstract
The ability to speak English fluently is a learning objective of EFL (English as the Foreign Language) learners. It is a goal to achieve by learning and practicing the language inputs. Moreover, the application of learning strategies is crucial to provide assistance for students to study more effectively. Several studies had been conducted to implement some strategies to develop students' speaking fluencies. On the other hand, the researches to find out students' strategies and their challenges and improving English speaking fluency were rarely carried out in the Department of English Language Education of Ar-Raniry state Islamic university. The aims of this research were to examine students' strategies in developing their speaking fluency and to reveal their challenges in improving fluency. The researcher used the interview to collect data and applied the thematic analysis technique to analyze them. The findings elucidated that the students applied the strategies of watching movies, listening to songs, creating mind maps, writing speaking outlines, repetition, utilizing smartphone applications and speaking English with partners. Nevertheless, when developing their speaking fluencies, the challenges they encountered were nervousness, grammar overthinking, pronunciation difficulty, lack of supports from society, insufficient learning resources and lack of internal motivation.
Actions (login required)