Munawwarah, 140203227 (2021) Teachers' Strategies in Teaching English Vocabulary to Young Learners. Skripsi thesis, UIN Ar- Raniry.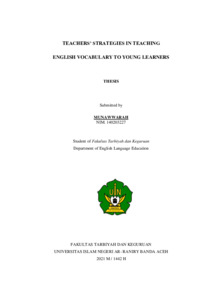 Preview
Text (The result of this research presented that the teachers applied more than one strategies to teaching English vocabulary to young learners to make them enjoy learning English.)




Munawwarah, 140203227, FTK, PBI, 085247618994.pdf

- Published Version
Available under License Creative Commons Attribution No Derivatives.
Download (3MB) | Preview
Abstract
This research was carried out to investigate teachers' strategies in teaching English vocabulary to young learners and to figure out the teachers' perception in applying the strategy in teaching vocabulary. The writer used the qualitative method to answer the research questions. The instruments of this research were observation and interview. The participants of this research were teachers who graduated from English Education and who have been teaching English to young learners for more than one year. The result presented that the teachers applied game, picture, memorization, translation, realia, action/ mime/ gesture, and song. In addition, based on the teachers' perception, those strategies were relevant to teach vocabulary to young learners because they can be mixed up more than two strategies in one meeting. Therefore, they taught using various activities and strategies to make young learners enjoy learning English.
Actions (login required)