Safhira, 160203196 (2021) Exploring Dyslexia Students' Strategies in Learning English. Skripsi thesis, UIN Ar-Raniry.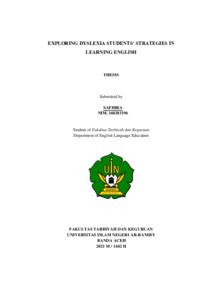 Preview
Text (Tentang Exploring Dyslexia Students' Strategies in Learning English)




Safhira, 160203196, FTK, PBI, 082360101420.pdf

- Published Version
Available under License Creative Commons Attribution.
Download (5MB) | Preview
Abstract
Dyslexia has been one of the disorders that really demand extra attention in a society. Moreover, many of us are quite unusual with dyslexia students because most of the study about dyslexia comes from English-speaking countries. There is growing evidence that learning to read English is more difficult than learning to read other languages. Therefore, the objective of this research is to examine and recognize certain specific strategies for students of Dyslexia in learning English. The data are obtained from 3 Senior High School Students of SMAN 1 Bandar Baru who experienced the dyslexia through participant observer and semi-structured interview methods. In this research, qualitative research is used as an approach towards this research. The material obtained from interviews was transcribed and analyzed. In the analyzing data, there were three steps that has been used. First, transcribing data obtained by interviewing. Second, coding the data based on the interviewees' answer. The last, describing the data regarding dyslexia students' strategies in learning English. The research results point out that any student with dyslexia has different personal strategies for learning English, and that their personal strategies have a major effect on learning English. The students used both Cognitive Learning Strategy and Behavior Learning Strategy. Additionally, the more often dyslexia students use the strategies, the more easier they feel to learn English.
Actions (login required)