Fitrah Tamimi, 160203093 (2021) Challenge in Teaching English toward Non English Major Students at Tarbiyah Faculty Uin Ar- Raniry. Skripsi thesis, UIN Ar-Raniry.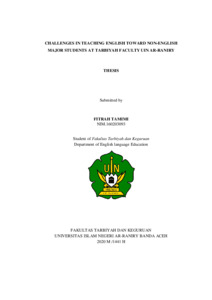 Preview
Text (Challenge in Teaching English toward Non English Major Students at Tarbiyah Faculty Uin Ar- Raniry)




Fitrah Tamimi, 160203093, FTK, BI, 082297637349.pdf


Available under License Creative Commons Attribution.
Download (5MB) | Preview
Abstract
This study aims to investigate the challenges faced by lecturers of Tarbiyah Faculty UIN Ar-Raniry in Teaching English toward non-English major students and then solutions to deal with the challenges. Qualitative narrative research design was applied in this study. There were 6 informants who teach English for non-English major in Tarbiyah Faculty UIN Ar-Raniry. They were intentionally selected based on the criteria and involved in a semi-structured interview. The researcher found that there were three categories of challenges. Those are the challenges that emerged from: students' side; teachers' side, and facilities. Challenges that emerged from students' side are students' lack of motivation, students' various background, students' previous teachers' inadequate way of teaching, Students' confidence issue, students' low of concentration, students' low exposure to English language, students' shortage of vocabulary stock, students insufficiency in pronunciation, and students' inadequacy of grammar knowledge. The second is challenges that came from teachers' aspect. Those are limited mastery of teaching methods and the felt of psychologically burdened. The third is challenges that emerged from the facility aspect. Those are inadequate resources and facilities in non-English departments and time constraint. Finally, as an attempt to solve the challenges, the lecturers also proposed seven solutions according to their perceptions. Those are different methods and techniques application, Improvising while teaching, improving resources and facilities, matching students' proficiency level and learning, make use of available resources, providing motivational feedback, and teachers' self- reflection. Those solutions hoped to be able to solve the challenges and integrate their teaching in the future.
Actions (login required)