Firdaus M. Yunus, 2004077703 and M. Hasbi Amiruddin, 2012115301 and Amroeni Drajat, 2012026501 (2017) Turnitin: The Role of HUDA in the Implementation of Islamic Syari'ah in Aceh. International Organization of Scientific Research (IOSR), Gurgaon, India.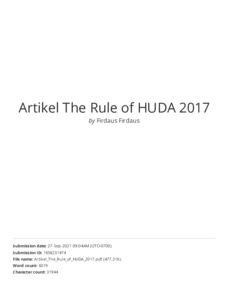 Preview
Text (The Role of HUDA in the Implementation of Islamic Syari'ah in Aceh)




Turnitin - The Rule of HUDA.pdf

- Published Version
Available under License Creative Commons Attribution.
Download (2MB) | Preview
Abstract
One of the ulama organizations that still exist to fight for the establishment of Islamic law in Aceh is HUDA. Since its birth, HUDA has participated in socializing Islamic Shari'a to the society and giving input for perfection of qanun of Shari'a implementation. HUDA is involved in each discussion about Shari'ah qanun by the government, because the ulamas in HUDA are considered to have high religious knowledge and have a strong influence in the society. The method used in this study is a qualitative method, with the data collection techniques through observation, interview and collection of documentation data. Meanwhile the results of research include: first, in the struggle for the implementation of Islamic Shari'ah in Aceh, HUDA has participated since the government issued Law no. 44 of 1999 to Aceh to socialize the principles of Shari'ah to the public. Second, HUDA organization also provides a strong understanding through continuous and systematic study of tasauf, tauhid and fiqh in a number of districts/towns in Aceh and outside the Aceh province. For their roles to the community, HUDA is widely known and increasingly close to the community.
Actions (login required)