Abdul Manan, 2021067201 (2021) The Role of Tauhid Tasawuf Study Council in Preaching the Tawhîd and Tashawwuf in Aceh, Indonesia. Journal Of Contemporary Islam And Muslim Societies, 5 (1): 4. pp. 104-133. ISSN 2528-7435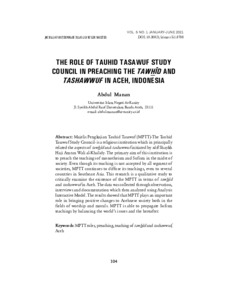 Preview
Text (THE ROLE OF TAUHID TASAWUF STUDY COUNCIL IN PREACHING THE TAWHÎD AND TASHAWWUF IN ACEH, INDONESIA)




THE ROLE OF TAUHID TASAWUF STUDY.pdf

- Published Version
Available under License Creative Commons Attribution.
Download (260kB) | Preview
Abstract
Majelis Pengkajian Tauhid Tasawuf (MPTT)-The Tauhid Tasawuf Study Council- is a religious institution which in principally related the aspects of tawhîd and tashawwuf initiated by sûfî Shaykh Haji Amran Wali al-Khalidy. The primary aim of this institution is
to preach the teachings of monotheism and Sufism in the midst of society. Even though its teaching is not accepted by all segment of societies, MPTT continues to diffuse its teachings, even to several countries in Southeast Asia. This research is a qualitative study to critically examine the existence of the MPTT in terms of tawhîd and tashawwuf in Aceh. The data was collected through observation, interviews and documentation which then analyzed using Analysis Interactive Model. The results showed that MPTT plays an important role in bringing positive changes to Acehnese society both in the
fields of worship and morals. MPTT is able to propagate Sufism teachings by balancing the world's issues and the hereafter.
Keywords: MPTT roles, preaching, teaching of tawhîd and tashawwuf, Aceh
Actions (login required)