Nadhiratul Husna, 170203063 (2021) Exploring Pedagogical Content Knowledge (PCK) of The English Teachers in Senior High School of Al-Manar Islamic Boarding School. Skripsi thesis, UIN Ar-raniry.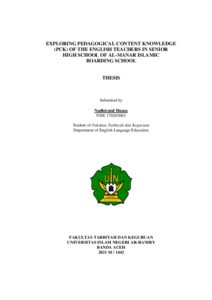 Preview
Text (Exploring Pedagogical Content Knowledge (PCK))




Nadhiratul Husna, 170203063, FTK, PBI, 082360001438.pdf

- Published Version
Available under License Creative Commons Attribution.
Download (7MB) | Preview
Abstract
This research concerns on how the EFL teachers perceive Pedagogical Content Knowledge (PCK) and how they practice it in teaching and learning process. To collect the data, this qualitative research used the instruments including documentation analysis, observation, and interview. Four experienced English teachers participated in this research study.The result found that MS and NL implemented lecturing and discussion, FAused holistic approach, lecturing, and discussion method, while FR focused on lecturing method. MS, Furqan, and NL had a good perception and trial to implement the suitable PCK in the classroom, but FR has a quite disagree with the K13 demand on PCK. In the content knowledge, MS and NL had less explanation on language features of the song, FAhad less explanation on social function, while FR had a good explanation in both. Overall, the teacher had a good effort to transfer the subject by their PCK but they did not do it perfectly because it is impacted by several contextual factors such as the facilities they have in the school, different teaching experiences, different language backgrounds of the students, and different way of the teachers' perception on PCK.
Actions (login required)