Jarjani Usman, 2012087205 (2021) Revitalizing Local Wisdoms for Dealing with the Disruption Era: A Case of Aceh. European Union Digital Library.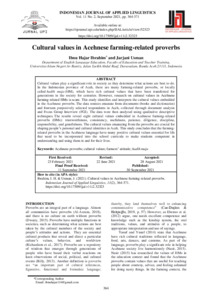 Preview
Text (This article analyzes cultural values in Acehnese farming-related proverbs)




Cultural values in Acehnese farming-related proverbs .pdf

- Published Version
Available under License Creative Commons Attribution.
Download (244kB) | Preview
Abstract
Living in the globalized era is very challenging because it has tremendously disrupted the shared local wisdom as the people's principles of life in many countries. In an Indonesian province of Aceh, for instance, as the result
of the erosion of local wisdom today, many people have dared to sporadically violate social norms and values. This descriptive-qualitative research employed document analysis and interviews to analyze the local wisdom from various sources, such as textbooks, proverbs, idioms, etc. and clarified their values with old people in Aceh. It was found that there are many local pearls of wisdom in Aceh culture, as in social structure (e.g., geuchiek, tuha peut), social practices (e.g., ba breuh lam jeumpét, meuseuraya), and proverbs that can be synergized for dealing with disruption era. Each of those wisdom has vital values of virtue, such as education, commitment, work ethics, gratitude, etc. Therefore, these Islamic religious-based local wisdom should be revitalized by incorporating them into school lesson materials in which students learn to know and act based on their vital
cultural values.
Actions (login required)