Jarjani Usman, 2012087205 (2021) Cultural Values In Acehnese Farming-Related Proverbs. Indonesian Journal Of Applied Linguistic, 11 (2). pp. 364-371. ISSN e-ISSN: 2502-6747, p-ISSN: 2301-9468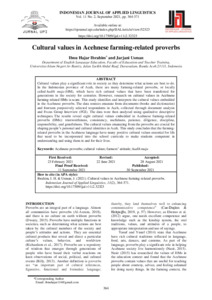 Preview
Text (This article analyzes Acehnese proverbs that are related to farming.)




Cultural values in Acehnese farming-related proverbs .pdf

- Published Version
Available under License Creative Commons Attribution.
Download (244kB) | Preview
Abstract
Cultural values play a significant role in society as they determine what actions are best to do. In the Indonesian province of Aceh, there are many farming-related proverbs, or locally called hadih maja (HM), with rich cultural values that have been transferred for generations in the society for centuries. However, the study on cultural values in Acehnese farming-related HMs is scant. 
Objective: This study identifies and interprets the cultural values embedded in the Acehnese proverbs. 
Method: The data sources emanate from documents (books and dictionaries) and fourteen purposively selected respondents in Aceh, collected through document analysis and Focus Group Interview (FGI). The data were then analyzed using qualitative descriptive techniques. 
Findings: The results reveal eight cultural values embedded in Acehnese farming-related proverbs (HMs): trustworthiness, consistency, usefulness, patience, diligence, discipline, responsibility, and gratefulness. The cultural values emanating from the proverbs are crucial for shaping people's personal and cultural identities in Aceh. 
Conclusion: This study concludes that the farming-related proverbs in the Acehnese language have many positive cultural values essential for life that need to be incorporated into the school curricula to make students competent in understanding and using them in and for their lives.
Actions (login required)