Jarjani Usman, 2012087205 (2021) Rethinking the Policies for Nurturing Teacher Identity Development in Indonesia. The Qualitative Report, 26 (5). pp. 1-14.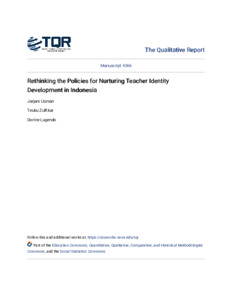 Preview
Text (This article explores the identity development of student teachers)




Rethinking the Policies for Nurturing Teacher Identity Developmen-3.pdf

- Published Version
Available under License Creative Commons Attribution.
Download (408kB) | Preview
Abstract
This study explored supports given by in-service teachers to student-teachers for professional identity development in Indonesia. In this qualitative study, sixteen student teachers taking the course of Curriculum Development at an Islamic higher education institution in Aceh were grouped into six and assigned to six schools (primary to senior high) in two districts in Aceh, Indonesia, to communicate with classroom teachers regarding lesson plan and teaching materials. We also expected them to observe classroom practices if possible. In this way, student teachers gain real experiences on how the teachers develop their lesson plans and implement them in actual lessons, as part of their professional identity development. We then interviewed all of them to delve into their experiences and perceptions of lesson preparation and teaching. The results showed that even though most school teachers provide spaces for student-teachers to practice designing lesson plans, most in-service teachers did not allow student-teachers to observe classroom practices. This leaves a gap in the trajectory of student-teacher identity development as there are few opportunities for support from the in-service teachers in this regard. However, some participants admitted that their teacher identity had been shaped by the good images of the school they visited, the courses on pedagogy they learned at university, and the instructional approaches former teachers used at schools. This study is significant because its findings can fill in the gap in the trajectory of teacher identity development by alerting in-service teachers, teacher trainers, and the government about the importance of providing school support to student teachers for developing their identity.
Actions (login required)