Siti Baida Urmila, 140203256 (2021) Analysis of Coherence and Cohesion in The Students' Writing Text. Skripsi thesis, UIN AR-RANIRY.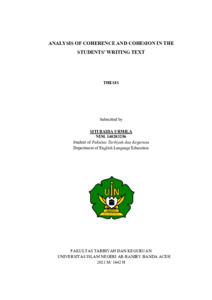 Preview
Text (Analysis of Coherence and Cohesion in The Students' Writing Text)




Siti Baida Urmila, 140203256, FTK, PBI, 085371937725.pdf

- Published Version
Available under License Creative Commons Attribution.
Download (6MB) | Preview
Abstract
In writing, especially in academic writing, students need to understand the techniques to write properly. Coherence and cohesion are among the important elements that students need to master. Here, the English language understanding is not enough to create an attractive writing in English, but the students also need to know how to make their writing make sense and easy to understand when other people read their writing. The purpose of this research is to analyze students' understanding about coherence and cohesion in their writing by focusing on what types of coherence and cohesive tools that are dominantly used by the students in their writing text. This research used a mixed-method. To collect the data, the writer used document analysis and questionnaire. The participants of this study were 155 students in English Language Department Students of State Islamic University Ar-Raniry Banda Aceh, especifically those in semester 4 who had taken intermediate writing course. The researchers purposively choose 15 students from the questionnaire result to analyze their writing. The result of this study showed that conjunction tool was the most dominant tools in cohesive type that used by students and transition/word signal in the type of coherence that the most dominant tools that used by students.
Actions (login required)