Ilham Ary Maoelana, 170203006 (2021) THE ANALYSIS OF INFLECTIONAL AND DERIVATIONAL MORPHEMES IN ROBERT FROST'S POETRY. Skripsi thesis, UIN Ar-Raniry Banda Aceh.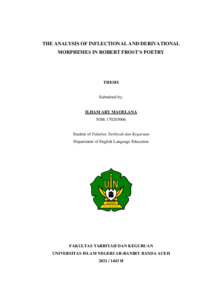 Preview
Text (The Analysis of Inflectional and Derivational Morphemes in Robert Frost's Poetry)




Ilham Ary Maoelana, 170203006, FTK, PBI, 085270485684.pdf

- Published Version
Available under License Creative Commons Attribution.
Download (2MB) | Preview
Abstract
The most important thing that must be mastered in order to grasp a language is word. The word is concerned with morphology since it affects spelling, reading comprehension, and vocabulary. To comprehend the meaning of vocabulary, language users need to acquire the knowledge of morphology, particularly inflectional and derivational morphemes. This thesis provides an analysis of both morphemes which occur in Robert Frost's poetry. The study aims to find the most frequently type of inflectional and derivational morphemes found in Robert Frost's poetry and also to elaborate the process of both morphemes. This study applied a qualitative method with document analysis technique. The data of this study were ten notable poems of Robert Frost's poetry. The result of this study revealed that from 675 words which contain inflectional and derivational morphemes, the most frequent type of morpheme that appeared in the poetry was plural using suffix -s, which is found in 153 words. This research also found 8 types of inflectional process including third-person singular, past tense, progressive, past participle, plural, possessive, comparative, and superlative, and 11 types of derivational process consisting of verb to noun, adjective to noun, noun to adjective in, verb to adjective, adverb to adjective, noun to adverb, adjective to adverb, verb to adverb, noun to noun, verb to verb and adjective to adjective. This research thesis is beneficial for pupils as their reading to learn derivational and inflectional morphemes as well as for English teachers and English Education Department as a reference in teaching vocabulary and linguistic subject.
Actions (login required)