Nurdin, 2006065701 Contextualization Of The Interpretation Of Wasatiyyah Islam In The Qur'an. Philosophical Readings.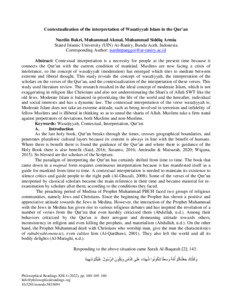 Preview
Text




Philosophical Readings XIII4 (2022) pp. 160-169.pdf

- Published Version
Available under License Creative Commons Attribution.
Download (464kB) | Preview
Abstract
Contextual interpretation is a necessity for people at the present time because it
connects the Qur'an with the current condition of mankind. Muslims are now facing a crisis of
intolerance, so the concept of wasaṭiyyah (moderation) has emerged which tries to mediate between
extreme and liberal thought. This study reveals the concept of wasaṭiyyah, the interpretation of the
scholars on the verses of the Qur'an, and the contextualization of the interpretation of these verses. This
study used literature review. The research resulted in the ideal concept of moderate Islam, which is not
exaggerating in religion like Christians and also not underestimating the Shari'a of Allah SWT like the
old Jews. Moderate Islam is balanced in prioritizing the life of the world and the hereafter, individual
and social interests and has a dynamic law. The contextual interpretation of the verse wasaṭiyyah is;
Moderate Islam does not take an extreme attitude, such as being involved in terrorism and infidelity of
fellow Muslims and is illiberal in thinking so as to annul the sharia of Allah. Muslims take a firm stand
against perpetrators of deviations, both Muslims and non-Muslims.
Actions (login required)