Abdul Manan, 2021067201 and Gunawan Adnan, 2016126801 and Muhibbuthabry, 2017016101 (2019) Reality and Public Perception of the Implementation of Islamic Sharia Laws in Banda Acèh. In: Proceedings of the 1st International Conference on Innovation in Education and Pedagogy (ICIEP 2019), October 5, 2019, Jakarta.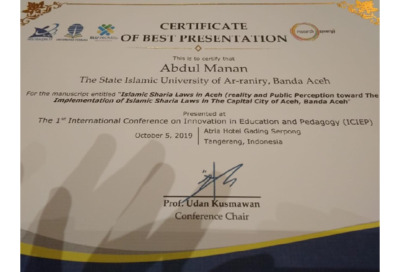 Preview
Text (Reality and Public Perception of the Implementation of Islamic Sharia Laws in Banda Acèh)




Article - ICIEP (2019)_Reality and Public Perception.pdf

- Published Version
Available under License Creative Commons Attribution.
Download (565kB) | Preview
Abstract
The present research was conducted to critically analyze contemporary perspectives on Islamic sharia laws in Banda Aceh, the capital city of Aceh province, Indonesia. Special attention is paid to the reality as well as perception and valuation of implementation. This field research has been conducted by means of participant observation as the principle method. Besides meticulous observation, in-depth discussions with informants were also carried out. The results of the research show that implementation of sharia has tended to focus on physical things; it is based on matters relating to women's clothing, seclusion, and writing Arabic names for government institutions and so forth, while the substance of the application of sharia has not yet fully appeared. The implementation of sharia is still more on symbolic discourses, w'hile the goals and objectives of sharia have not yet been fully understood and implemented. Not all the applications of sharia law have been fully carried out in accordance with the rules, procedures, and objectives. Meamvhile, what exists today can be said in general to be somewhat "surface-level" only. However, many informants said that the implementation of Islamic sharia laws has been relatively successful compared to the years before the laws were legalized and implemented.
Actions (login required)