Muhibbuthabry, 2017016101 and Saifullah Idris, 2006047203 and Amsori, 0331078107 (2018) Turnitin: The Status of Wilayat Al-Hisbah Institution in the Constitutional Law Order. American Scientific Publishers.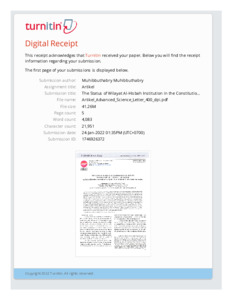 Preview
Text (The Status of Wilayat Al-Hisbah Institution in the Constitutional Law Order)




Turnitin ASL - The Status of Wilayat Al-Hisbah Institution.pdf

- Published Version
Available under License Creative Commons Attribution.
Download (8MB) | Preview
Abstract
The issue of a number of laws and by-laws to the Islamic sharia implementation in Aceh does not guarantee the effectiveness of this implementation. This is highly related to thefact that Islamic sharia in Aceh has been so long not implemented. It is also due to the impact of prolonged conflict and global culture, religious life, religion education, and the decline of tradition in this area that has reached the critical point. The constitutional law principally is to govern the power of a state organization and all of its aspects related to the organization of the state. Al-Qur'an as guidance for mankind illustrates that each Moslem acts as a caliph in which one of his/her duties is to spread the goodness and to reject the wrongdoings. Also, al-Qur'an acts as a legal protection to the state with an authority to institute the preparation of regulation towards the implementation of this order. Hence, the Government requires a formal legal institution as a means to manage theattitude of human beings, namely Wilayat Al-Hisbah institution. The status of this institution in the positive law in Aceh can be traced to the legal basis in the form of laws and regional regulations. Based on the context of the Islamic sharia implementation in Aceh Province, the institutionalformat of Al-Hisbah concerns with the idealformat of Islamic Sharia that might be implemented in the daily life of the community in accordance with the setting and the overall condition of the Acehnese people who have philosophical-juridical values corresponding to the social setting of Aceh people in the reform era. This essay attempts to discuss the status of Wilayat Al-Hisbah institution in Constitutional Law Order with Socio- Historical analysis in the Implementation of Islamic Sharia in Aceh in consideration to that the imposition of Islamic law is an integral part of the vision and mission of the life of the Muslim community in this area.
Actions (login required)