Farhah, 160203006 (2021) Problem Solving and Decision Making Strategies of Double Major Students in English Department. Skripsi thesis, UIN Ar-Raniry.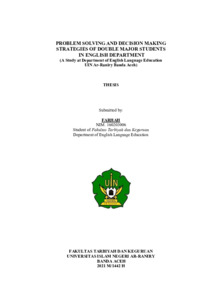 Preview
Text (Problem Solving and Decision Making Strategies)




Farhah, 160203006, FTK, PBI, 085370221049.pdf

- Published Version
Available under License Creative Commons Attribution.
Download (2MB) | Preview
Abstract
It is the fact that a number of university students in Banda Aceh decided to pursue the Bachelor degree in two majors at the same year or a year after. The aim of this study is to investigate the problems commonly faced by the double major students in English department, the problem solving and decision making strategies they use to deal with the problem. Six participants who study in two majors have been selected. The 6 participants are majoring in English Department (PBI) and various others majors such as Law, Psychology, Urban Planning, Communication and Economic Development. To gain the data, phone interviews have been conducted by the researcher. The result shows there are several problems that double major students commonly faced; conflicting schedules, no interest in the subject, lack of time management skill, workload of college assignments, lack of support and unawareness of the university guidelines. The problem solving strategies used by double major students are; identifying the problem, analyzing the problem, forming a strategy, organizing information, allocating resources, monitoring progress and evaluating the results. Furthermore the decision making strategies are; identifying the priorities, asking help and opinions from others, predicting the possible outcome of each choice, considering the important points and making comparison of the available options.
Actions (login required)