Nadia Ulfah, 170203067 (2022) Sociolinguistics Study of Slang words used in TikTok Memes Videos. Skripsi thesis, UIn Ar-Raniry.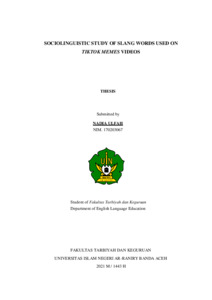 Preview
Text (Membahas tentang variasi slang pada applikasi TikTok)




Nadia Ulfah, 170203067, FTK, PBI, 081360811262.pdf

- Published Version
Available under License Creative Commons Attribution.
Download (3MB) | Preview
Abstract
Social media used during pandemic Covid-19 is a genuine lifesaver in this light, maintaining a relationship with friends and relatives. TikTok is one of the most used social media platforms used by Gen Z with frequent of slang words to communicate. Consequently, people outside the community might be confused with the slang language. This study aims to find out what types of slang words are used by TikTok users on making short Memes videos and the meaning of it. By using qualitative research, the researcher collects the data from TikTok with Ubuntu Linux operating system. Un-official TikTokApi was used as the instrument, it is legal to scrape data from websites for public consumption and use it for analysis. The researcher used purposive sampling to concentrate on key characteristics slang contained, meme-relatedness, and popularity, and the findings of the research implied 33 slangs words found from various TikTok Videos posted by different users. Those are slang words that have been newly interpreted and invented slangs and have three functions according to Zhou and Fan (2013), they are, pursuit of self-identity, emotive feeling of slang words and achieving politeness.
Actions (login required)