Deby Susilawati, 170203001 (2021) The Use of Derivational and Inflectional Morpheme in CNN's and Aljazeera's News on Covid 19 and Terrorism. Skripsi thesis, UIN Ar-Raniry.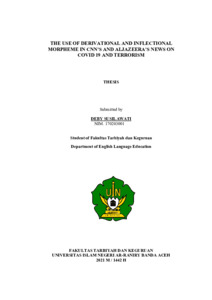 Preview
Text (Morpheme)




Deby Susilawati, 170203001, FTK, PBI, 085358480888.pdf

- Published Version
Available under License Creative Commons Attribution.
Download (14MB) | Preview
Abstract
The attractiveness of news story depends on the use of the words. Word is related to the theory of morpheme in language. By understanding the theory, readers can find out the exciting words used in conveying the news to attract the readers' attention and gain new vocabulary. As the result, readers need to learn morpheme, especially derivational and inflectional morphemes. This study was conducted to identify the derivational and inflectional morphemes that occur in CNN and Aljazeera news. This study also aims to find out the differences in using derivational and inflectional between the two types of news. This study uses a descriptive qualitative method. The data of this study are news about Covid 19 in CNN and and Terrorism in Aljazeera which consist of four articles. The result of this study shows that there were 9 types of derivational morphemes and 8 types of inflectional moprhemes in CNN news. Then, Aljazeera news contains 8 types of derivational morphemes and 7 types of inflectional moprhemes. The differences of the use occur in all types of morphemes both CNN and Aljazeera news. The verb to adjective and plural are the types of derivational and inflectional morphemes with the most significant differences. Specifically, the different range
of verb to adjective is 10 morphemes while plural is 16 morphemes.
Actions (login required)